Our Immigrant Ancestors from Germany and Alsace (1830-1883)
See also (on this website):
Genealogy Site Map
Alsace
Erie County
Families: Laborn - Staebell - Voegele
Many of our ancestors originated in German-speaking lands, and immigrated to the United States between about 1830 and 1883. This is true of all ancestors in the Staebell side of our family tree, and most of the ancestors in the Mesker-Schneider branch. Upon reaching America, they settled in Erie County, New York, some in the city of Buffalo and others in the neighboring towns and villages. The Schneider family settled across the Niagara River from Buffalo, in Welland County, Ontario.
The History of Germany and Alsace
During most of the era when our ancestors left Europe (1830 to 1883), the nation of Germany did not exist. "Germany" was a collection of separate states (see the map below), many of them independent, and others under the control of outside empires such as Austria-Hungary. Two centuries earlier, the Thirty Years War of 1618-1648 had shattered centralized rule over Germany. During the course of the 19th century, the kingdom of Prussia (originally known as the state of Brandenburg), with its capital in Berlin, became the predominant military and political power within Germany. In 1871, with the leadership of Prussia, the numerous states unified into the modern nation of Germany.
Many of our ancestors came from a German-speaking region known as Alsace. In the early 1800's, Alsace was part of the nation of France, as it is today, although the people of Alsace spoke a dialect of German called "Alsacien." After the defeat of France in the Franco-Prussian War of 1870-1871, Alsace and the neighboring German-speaking region of Lorraine, together referred to as "Alsace-Lorraine," were annexed to Germany. Following World War I (1914-1918), Alsace and Lorraine once again rejoined France.
Beginning in the late 1820's and continuing through most of the nineteenth century, many people left their homes in Alsace and the other German-speaking states, and came to the United States and Canada, in search of a better life. The opening of the Erie Canal in 1825 made it easy for new immigrants, arriving in New York harbor, to reach newly available and inexpensive farmland in Western New York and other regions further west. The Erie Canal brought a great influx of German-speaking families into Erie County. Some were Roman Catholic, and others were Protestant. All of our German-speaking ancestors, except for the Laborn family, were Catholic.
Our Families
Here, in approximate chronological order, is what we know about the immigration of each branch of our family. We know more about the origins and immigration of some families than about others. Over time, with more research, we hope to discover still more. Further research might also reveal that some of the information presented here is inaccurate. To learn how these families are related, see the family tree diagrams.
OTT, circa 1830.

John Ott and his wife, Mary Ann Meder, with their four or five children and an orphan nephew (George), came to America in about 1830. Their daughter, our ancestor Catherine Ott (pictured here in her 70's), was a young girl when the family immigrated. The family purchased a farm on Borden Road in southeast Cheektowaga, near the border of Lancaster, in Erie County, New York. When St. Mary's of the Assumption Catholic Church was founded in Lancaster in 1850, the Otts were among the first active families in the parish. Catherine's older brother Louis Ott moved to nearby Gardenville, which is a district of West Seneca, and we have two photographs of Catherine Ott with Louis's children at their Gardenville home. The Otts came from Kutzenhausen, a small village in Alsace. Other Catholic Alsatians who settled in Cheektowaga in the 1830's came from towns near Kutzenhausen, such as Surbourg and Ohlungen.
SCHNEIDER, circa 1830. Peter Schneider and Barbara Klein were born in Nousseviller-lès-Bitche, a village in Moselle. Moselle is part of Lorraine, a German-speaking region of France directly west of Alsace. Peter and Barbara were married in 1823 in Nousseviller and their first five children were born there between 1824 and 1829. Their younger children apparently were born in Canada, although oral tradition says that our direct ancestor Jacob Schneider was born at sea during the voyage to America. The Schneider family settled in Welland County, Ontario.
HOCK or HOCH, 1833.

Frank Hock (sometimes spelled Hoch), father of Barbara Hock (pictured), was only about one year old when he arrived in America in 1833 on the Brig Ann and Emilee. About a dozen passengers named Hock, probably all related, were on board that ship. It is not known which of the adult Hocks -- Mathias, Mary Eva, Jacob, Barbara, Michael, and Claudius -- were Frank's parents. In Germany, the Hocks lived in Grosswallstadt, a village in northwest Bavaria, near Bavaria's border with Baden. In New York, from the 1830's through the 1850's, the Hock families lived in Amherst, and attended Saints Peter and Paul Catholic Church in Williamsville. By the 1860's, apparently after the older members of the family had passed away, some of the family had moved to Buffalo, and later to other parts of Erie County. (See also: Hock Family.)
FÜRST. Eva Fürst married Frank Hock in 1857 at St. Louis Catholic Church in Buffalo. She was born in Bavaria in about 1838, and died in Hamburg, New York, in 1869, but little else is known about her.
HEINTZ, 1835.

We are not descendants of the Heintz family, but a few of them married relatives of ours. John Reinhart Heintz and Marie Cresence Wagner lived in Niederlauterbach, Alsace. They came to America with their many children in 1835, on the ship France. Their daughter Mary Ann Heintz married Louis Ott, the son of John Ott and Mary Ann Meder. (After Mary Ann Heintz died, Louis married Margaret Voegele, a daughter of Joseph Voegele and Catherine Miller.) Mary Ann's sister Regina Heintz (pictured), married Henry Balthasar. Another sister, Mary Eve Heintz, married John Schmalz of Lancaster, and their son John Jacob Schmalz married Mary Hock, the daughter of Andrew Hock and Theresa Rusch.
BALTHASAR, 1837.




The Balthasar family emigrated from the small village of Hoinkhausen in Westphalia in 1837 and lived in Buffalo. The parents were Christopher Balthasar and Suzanna Levenig. They had three sons (pictured) -- Henry, William, and Frank -- and one daughter, Theresa. Our ancestor William Balthasar married Elizabeth Clemens and was the father of Anna Balthasar Voegele. Many photographs of this immigrant family and their children have been preserved in Anna Balthasar's Family Album.
DRUMMER, 1846. George Drummer and Anna Heidorn and their family were among the wave of German-speaking Catholic immigrants who arrived in Welland County, Ontario in the 1830's or 1840's. They probably came from Wiesenthau, a village in Bavaria. They were passengers on the ship Meta, which sailed from Bremen and arrived in New York in November, 1846.
STAEBELL of Alden, 1840's and 1850's. Everyone with the name Staebell living in the United States today is probably descended from a single family, who first appear in about 1700 in the records of Stundwiller, a village in northern Alsace. Although our direct Staebell ancestors arrived in America in the 1880's (as described in a separate paragraph below), they were preceded a generation earlier by many of their relatives. Between 1846 and 1855, six or seven Staebell families immigrated from Stundwiller and settled in the parish of St. John the Baptist Catholic Church in Alden. Among them were two half-brothers and a half-sister of our ancestor John Staebell: Frank Staebell came across in 1846 on the ship Palestina; Mathias Staebell and Marie Eve Staebell crossed in 1847 on the ship Sweden. Many other families, probably all related to us, came from the Stundwiller area to Alden in the same time period -- Schenck, Ball, Fix, Klaus, Kocher, Marzolf, May, Philipps, Suttel, Uebelhoer, Wagner, and Walter. (See also: Staebell Family.)
VOEGELE, 1847.


From at least the mid-1600's, our Voegele ancestors lived in the village of Soufflenheim in Alsace. Although Soufflenheim is only about 15 kilometers south of the Staebell home village of Stundwiller, the two villages are separated by a forest, and there is no evidence of contact between the Voegele and Staebell families before they came to America. In 1847, Joseph Voegele and his wife Catherine Miller (or Müller) and their children crossed the Atlantic on the ship Exchange. They settled in the east part of the town of Lancaster. The gravestones of Joseph and Catherine are among the oldest in Lancaster's St. Mary's Cemetery. Their son Joseph married Catherine Ott and purchased the Ott family farm in Cheektowaga. Among the children of Joseph Voegele and Catherine Ott are Joseph Voegele (pictured), the husband of Anna Balthasar, and Mary Ann Voegele (also pictured), the wife of Anthony Nuwer. (See also: Voegele Family.)
NUWER, 1843 and 1844.

The Nuwer family, like the Voegele family, originated in Soufflenheim and immigrated to Lancaster. Although we are not descended from the Nuwers, we share common Soufflenheim ancestors with them. Furthermore, Mary Ann Voegele, the daughter of our ancestors Joseph Voegele and Catherine Ott, married Anthony Nuwer in 1882. Anthony was the son of John Nuwer and Catherine Kieffer (pictured), who married in Soufflenheim in 1843 and came to America later that same year on the ship Oneida, with other members of the Kieffer family from Soufflenheim. In 1844, John's parents Antoine Nuwer and Marguerite Ludwig, with their children Francis X. Nuwer and Celestine Nuwer, came to America on the ship Argo. Once in New York, the Nuwers bought homes in the town of Lancaster, near Town Line. When Joseph Voegele and Catherine Miller arrived a few years later, they bought a home not far from the Nuwers.
CLEMENS, circa 1855.



The Clemens family lived in Rublinghausen, a district in the city of Olpe in Westphalia. Three Clemens sisters (pictured) -- Elizabeth, Josepha, and Gertrude -- came to America in about 1855 and settled in Buffalo. Elizabeth, who married William Balthasar, is our ancestor.
LABORN, 1857. In 1857, Carl and Sophia Laborn left their home in Medow, Mecklenburg, Germany, with their four daughters, and in Hamburg they boarded the ship Rudolph, sailing for America. Unfortunately, both parents died at sea, poisoned by a fellow passenger who fraudulently posed as a physician. (See the Rudolph "Poison Ship" story.) Upon arrival in America, the four orphaned daughters, including our ancestor Elizabeth "Libby" Laborn, went to live with relatives in Niagara Falls, New York. (See also: Laborn Family.)
MESKER, circa 1860. Little is known about the Mesker family origins. According to family tradition, Frank Mesker was born in Three Rivers (Trois-Rivières), Saint-Maurice County, Quebec. U.S. census records indicate that he was born in 1842 or 1843 and that his parents were born in France. When Frank came to live in Niagara Falls, New York, is unknown. Because Frank married Libby Laborn, a woman who possibly only spoke German, and because the name "Mesker" is similar to "Metzger," a popular name in Alsace, it is possible that the Meskers originated in Alsace or Lorraine.
STAEBELL of Lancaster and Buffalo, 1880 and 1883.




Our ancestor Frank Anton Staebell (third picture) came to America from Stundwiller in 1880. In 1883 his parents, John Staebell and Catherine Schenck (first two pictures) also came over. Catherine died a few days after her arrival in New York, and she is buried in the cemetery of St. John the Baptist Catholic Church in Alden. John and Catherine had many children, and all of them came to America with their parents, or perhaps on separate ships at about the same time. This entire Staebell family lived in Buffalo, except Frank Anton, who lived in Lancaster and married Barbara Hoch. (See also: Staebell Family.)
Maps
Map # 1: The German States, 1871.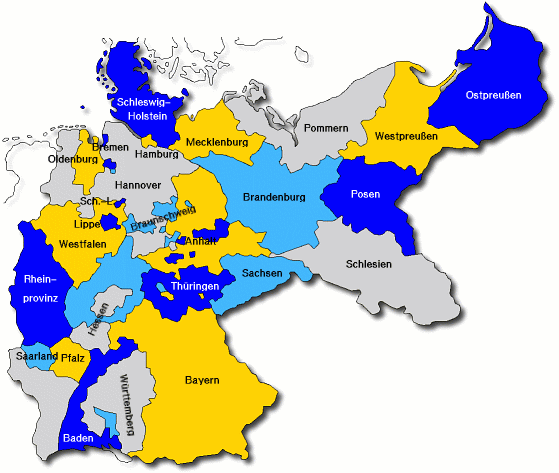 The German States in 1871, at the time of unification.
The unlabeled gray region in the southwest corner is Alsace-Lorraine.
(On this map, German-language place names are used.
"Bayern" is called "Bavaria" in English; "Westfalen" is "Westphalia.")
Map # 2: Alsace in Present-Day Europe.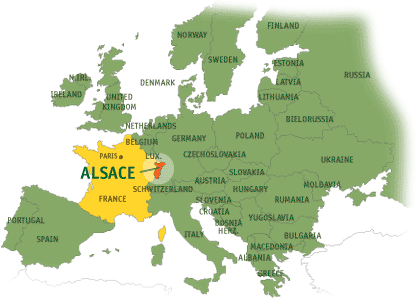 A map of present-day Europe, showing
the location of Alsace in France.
Alsace is in eastern France, on the Rhine River across from Germany,
and north of Switzerland.
Map # 3: The Townships of Erie County, New York.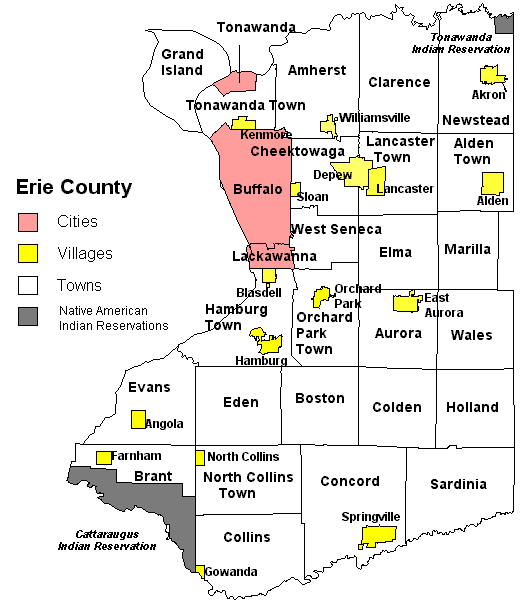 Erie County is divided into townships, with three cities and a number of villages.
Sources for the maps:
Map of Germany:

Web page on Genealogy.net: "Germany in the 1871 borders"

Map Europe highlighting Alsace:

From the website of "Logis de France"

Map of Erie County:

Website of the Western New York Regional Information Network
Comments? Suggestions? Send a letter to Brian...