Niagara Falls, New York
See also (on this website):
Site Map for This Genealogy
Niagara County
Family Tree of the Mesker Family of Niagara Falls
Microfilm Records for Niagara Falls
Names Identified on the Niagara Falls Microfilm Reels
The Laborn Family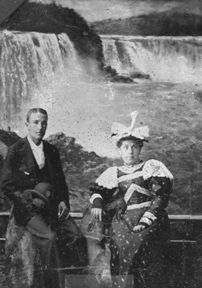 My great-grandparents, Louis and Margaret Mesker of Niagara Falls, with the falls in the background.
The City of Niagara Falls in Niagara County, New York, was the hometown of the Mesker family. My grandmother, Bianca Mesker Smith, was born there in 1906. Her grandmother, Elizabeth Laborn (later Mesker) and her sisters arrived in Niagara Falls from Germany in 1857, and in the next forty years other branches of the family assembled there.
History
From the website of the Niagara Falls Area Chamber of Commerce, a website which no longer seems to exist.
The City of Niagara Falls was incorporated March 17, 1892. The City was created out of the villages of Niagara Falls and Suspension Bridge and the hamlet of Clarksville. The first permanent settlement here was in the first decade of the 19th century. While still a hamlet, Niagara Falls was burned by the British, Dec.30, 1813 during the War of 1812. The development of long-distance transmission of electricity here in 1895-96, led to the growth of industry and made Niagara Falls a boom town.
According to brittanica.com, the village of Manchester was also incorporated into the city of Niagara Falls.
Location
From the website "Key to the City" at www.pe.net/~rksnow/nycountyniagarafalls.htm.
In northwestern New York, on the Niagara River, nears Lakes Erie and Ontario
Latitude 43.09N, Longitude 79.01W
Population
Niagara Falls Records on Microfilm
Comments? Suggestions? Send a letter to Brian...