Welland County, Ontario
See also (on this website):
Site Map for This Genealogy
Family Tree of the Schneider Family of Welland County
Microfilm Records for Welland County
Names Identified on the Welland County Microfilm Records
Families Identified on the Welland County Microfilm Records
Names from the Ontario Archives


Welland County is the home of my Schneider ancestors.
Location and Townships
Welland County is a peninsula in Ontario, Canada. It is bounded on the north and west by Lincoln County (with Lake Ontario to the north of Lincoln County), on the east by the Niagara River (and Niagara Falls), and on the south by Lake Erie. Haldimand County is to the west. Across the river to the east are Niagara County and Erie County in New York State.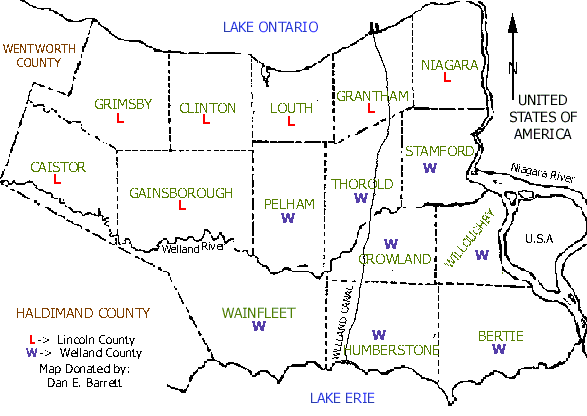 This map is from "Niagara Genealogy Locator -- By Map" at http://www.rootsweb.com/~onniagar/townshipmap.htm, where it was contributed by Dan E. Barrett.
Welland County is divided into eight townships, each of which contains various towns and villages. According to "Niagara Genealogy Township Index" at http://www.rootsweb.com/~onniagar/welland/townshipindex.htm, the townships are as follows:
Bertie Township -- Bertie Bay, Buffalo Heights, Crystal Beach, Fort Erie, Oakhill Forest, Ridgemount, Snyder, Stevensville, Thunder Bay

Crowland Township -- Cooks Mills, Dain City, Welland
Humberstone Township -- Bethel, Brookfield, Gasline, Humberstone, Port Colborne, Sherkstone, Sugar Loaf Hill

Pelham Township -- Effingham, Fenwick, Fonthill, Pelham, Pelham Centre, Pelham Corners, North Pelham
Stamford Township -- Clifton, Drummondville, Niagara Falls, Stamford, Stamford Station
Thorold Township -- Allanburg, Allanburg Junction, Black Horse Corners, Centreville, Port Robinson, St. Johns West, Thorold, Turners Corners
Wainfleet Township -- Beckett Bridge, Long Beach, Marshville, Marshville Station, Ostyhon Corners, Perry Station, Sugar Loaf Hill, Wainfleet, Wainfleet Station, Willow Bay, Winger
Willoughby Township -- Chippewa, Douglastown, Netherby, White Pigeon
Historical Maps
Excellent historical maps of Welland County and other Ontario counties are available on-line at "The Canadian Atlas Digital Project," http://digital.library.mcgill.ca/CountyAtlas. These maps were drawn between 1874 and 1881. The maps show the names of lot holders, and the website has indexes by name.
The maps for all of the Welland County townships were drawn in 1876. You can determine this by using the website features to locate an individual person, and call up the detail about that person.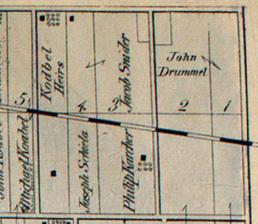 The image above is from the northeast corner of the Humberstone Township map. It shows the lot owned by my ancestor Jacob Snider (Schneider).
Roman Catholic Churches
The Catholic Diocese of St. Catherine's spans the counties of Welland, Lincoln, and Haldimand.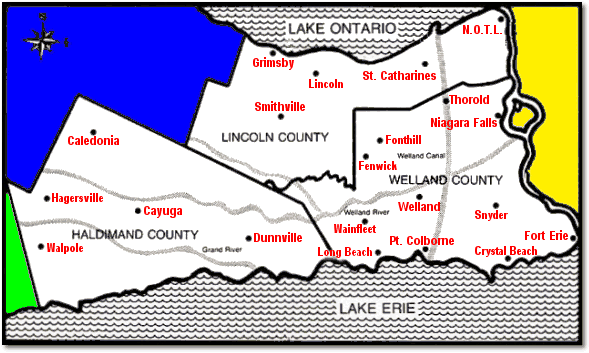 This map is from "The Diocese of St. Catharines Parishes" at http://www.romancatholic.niagara.on.ca/parish.htm. It shows each parish in the diocese.
Catholic parishes in Welland County, in the order of their founding:
Niagara Falls: Our Lady of Peace (established 1837) 7021 Stanley Avenue, L2G 7B7
Snyder: St. Joseph (established 1849) R.R. # 2 (Netherby Road) Stevensville, L0S 1S0
Thorold: Holy Rosary (established 1852) 21 Queen Street South, Thorold, L2V 3M7
Port Colborne: St. Patrick (established 1859) 123 King Street, L3K 4G3
Fort Erie: St. Michael (established 1860) 310 Central Avenue, L2A 3T3
Niagara Falls: St. Patrick (established 1858) 4673 Victoria Avenue, L2E 4B8
Welland: St. Mary (established 1910) 90 Griffith Street, L3B 4G4
Welland: Sts. Peter & Paul (established 1913) 300 Chaffey Street, L3B 2Y8
Niagara Falls: St. Ann (established 1913) 5740 Buchanan Avenue, L2G 3V3
Welland: Paroisse du Sacre Coeur (established 1920) (French) 72, rue Empire, L3B 2L4
Niagara Falls: Sacred Heart (established 1924) 3882 Main Street, Chippawa, L2G 6B6
Welland: Our Lady of Hungary (established 1928) 337 Hellems Avenue, L3B 3C2
Port Colborne: St. Therese of Lisieux (established 1937) 379 Fares Street, L3K 1W9
Wainfleet: St. Elizabeth (established 1938) 19 M 41 Highway # 3, L0S 1V0
Fenwick: St. Ann (established 1940) 834 Canboro Road, L0S 1C0
Port Colborne: St. John Bosco (established 1946) 375 Main Street West, L3K 3V9
Crystal Beach: St. George (established 1947) 56 Ridgeway Road, L0S1B0
Port Colborne: Paroisse S. Jean-de-Brebeuf (established 1951) (French) 300, est rue Killaly, L3K 1N9
Thorold: St. Aloysius (established 1951) 317 Morton Street, Thorold, L2V 1C4
Niagara Falls: Our Lady of the Scapular (established 1951) 6557 Thorold Stone Road, L2J 1B2
Welland: St. Augustine (established 1951) 295 St. Augustine Avenue, L3C 2L2
Welland: St. Kevin (established 1951) 303 Niagara Street, L3C 1K5
Niagara Falls: Paroisse S. Antoine-de-Padoue (established 1955) (French) 4570 Chemin Portage, L2E 6A8
Niagara Falls: St. Thomas More (established 1956) 6548 Dorchester Road, L2G 5T5
Welland: St. Andrew the Apostle (established 1957) 22 Golden Boulevard E., L3B 1H4
Fonthill: St. Alexander (established 1967) 50 Pelham Town Square, L0S 1E0
Welland: St. Anthony (Croatian) (established 1982) 360 River Road, L3B 2S4
Long Beach: St. Teresa of Avila (Mission Church of St. Elizabeth Wainfleet) Lakeshore Road
Welland County Records on Microfilm
Comments? Suggestions? Send a letter to Brian...