Anna Balthasar's Family Album, Photo # 35a
Martin and Mary Haentges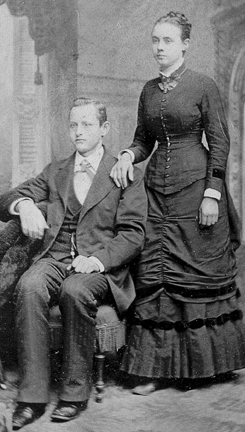 If you copy these photographs or text to your own
family history or into any other work,
please add the appropriate credit.
For example:
"The source of this photograph is
the Genealogy of Brian J. Smith at
www.smithancestry.com."
Mary Balthasar (born 1861), who married Martin Haentges, is the daughter of Henry Balthasar and Regina Heintz.
My grandmother, Josephine Voegele Staebell, could not identify this couple. However, Amber Hahn, their great-great-granddaughter, pointed out in a Jan-2013 e-mail that this is the same couple who appears in Photo 32a.
See Also:
Home Page for This Genealogy Website