Catherine Ott Voegele, 1902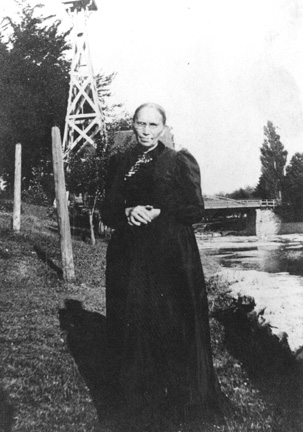 If you copy these photographs or text to your own
family history or into any other work,
please add the appropriate credit.
For example:
"The source of this photograph is
the Genealogy of Brian J. Smith at
www.smithancestry.com."
Catherine Ott (1825-1908) is the wife of Joseph Voegele (1823-1890). Her children include Joseph Voegele (1862-1934) who married Anna Regina Balthasar, and Mary Ann Voegele (1860-1931) who married Anthony Nuwer.
It appears that this photograph was taken on the same day and at the same place as two Ott family photographs in this collection: the photograph titled "Ott and Voegele Families, 1902," and photo F2 of Anna Balthasar's family album. Catherine is wearing the same outfit in all three photos; the same wooden tower is visible in this photo and in the 1902 photo; and this photo and photo F2 appear to be the same riverbank location, viewed from different angles.
Date of photo: Probably August 1902, the same as the two Ott family photographs.
Here is an enlargement of part of this photograph: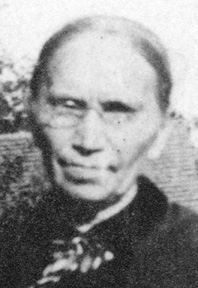 Thank you to Dr. Donald Nuwer for providing a copy of this photograph.
See Also:
Comments? Suggestions? Send a letter to Brian...