Anna Balthasar's Family Album, Photo # 21
Regina Heintz Balthasar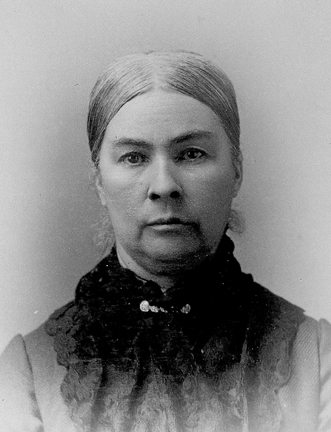 If you copy these photographs or text to your own
family history or into any other work,
please add the appropriate credit.
For example:
"The source of this photograph is
the Genealogy of Brian J. Smith at
www.smithancestry.com."
Regina Heintz (born 1831) is the wife of Henry Balthasar.
We are related to other members of the Heintz family.
Regina's sister Marie Ann Heintz (1825-1863) was the first wife Louis Ott (1816?-1896), brother of our ancestor Catherine Ott Voegele (photo F2).
Regina's nephew, John Jacob Schmalz Jr. (born 1857), the son of John J. Schmalz Sr. and Regina's sister Mary Eva Heintz, married Mary Hock (1856-?), who was probably a cousin of our ancestor Barbara Hock Staebell.
See Also:
Home Page for This Genealogy Website