Frank A. Staebell
Certificate of U.S. Citizenship
05-Feb-1886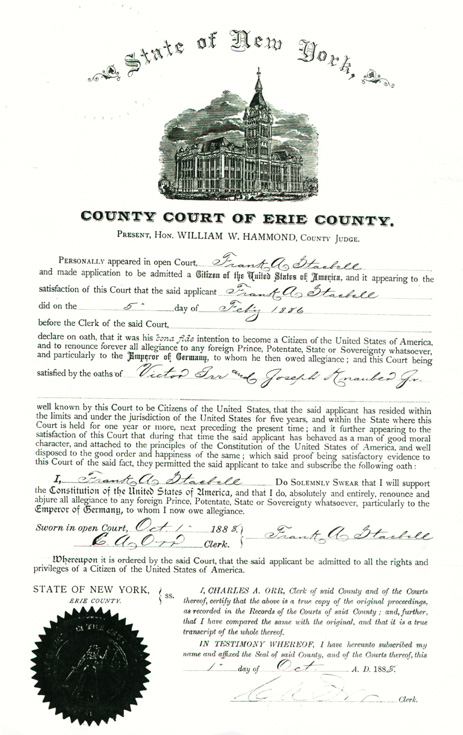 In this document, Frank A. Staebell has two witnesses on his behalf: Victor Irr and Joseph Knauber, Jr. According to the website of the town of West Seneca, New York, at www.westseneca.net/history.html, Victor Irr was the Town Supervisor, similar to mayor, from 1874 to 1876. I do not know if this is the same Victor Irr. Victor Irr, as well as three people named "Staebel," appear in an 1867 census of the Fourteen Holy Helper's Church parish in West Seneca, at http://members.tripod.com/~wnyroots/index-west-fourteen.html.
Both Victor Irr and Joseph Knauber appear in a genealogy website at http://members.tripod.com/~NSampson/profiles2.html:
IRR, Victor
Born Oct. 22, 1832 France to John B. & Mary A. SCHOTTRE of France. Settled in Williamsville, NY with Michael Irr, his uncle. (Amherst)
KNAUBER, Joseph
Born 1831 Lancaster, NY. Married 1853 Mary Ann AMANN, born Germany 1832. Seven children. (Lancaster, NY)
Victor Irr was born in Offendorf, Bas-Rhin (Alsace), France on 22-Oct-1831.
Again, I can't be sure if these are the same two men.
Genealogy Entry for Frank A. Staebell